We'll ensure your AC is Ice Cold!
At Tyrrell Tires we know how annoying it can be if your air conditioning or heating systems are working properly in your vehicle. We are always more than happy to take a look at your vehicle and see what the issue is, there is never a job too much for us! Please don't hesitate to bring your car in if you think something isn't quite right with your AC in your vehicle.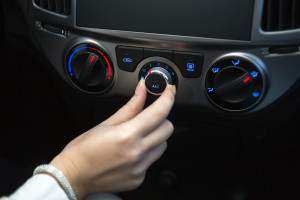 What it is?
Your air conditioning and heating system in your vehicle play very important roles when it comes to the comfortability and safety of your vehicle. The A/C and heating systems in your vehicle are very vital to the comfortability of the ride you experience in your vehicle. The heating system is designed to keep you warm in the winter, while the A/C system serves two functions: cool air in the summer, and defrosting your windshield in the winter. Heating systems consist of a heater core, this heater core acts as a small radiator behind the dashboard, then a series of fans and hoses that operate to run the warmth from the engine back to the vents inside the car. On the other hand, air conditioning systems work by transporting coolant to the fan so it can blow cool and refreshing air inside the vehicle. Unlike the air conditioning and heating system in your home that uses electrical power, your vehicle uses the heat from the engine and the engine's cooling feature to alternate between warm and cold air within the cabin of the vehicle
Why you need to service your A/C:
Just like with anything you purchase, wear and tear are going to occur, your A/C system in your vehicle is no different. After so much time and usage, certain components of the system may start to work less or not work at all. Typically, a common issue with air conditioning systems are hose pipes being clogged or springing a leak, causing the A/C to either not be as cold or not cold at all. However, if you try to keep up with routine and proper maintenance, these issues shouldn't come up.
Complications to look for with your A/C:
Air conditioning blowing warm air and Heating blowing cool air
Your A/C is blowing warm air
The air coming from your vents smells off. i.e. damp, moldy, or stuffy
You have your vents at the highest setting and they are hardly blowing any air
If during the winter, your cabin does not seem to heat up
Complications with the defroster, not working, taking an excessive amount of time to heat up, or blowing in dirty air
If your A/C or heat quits working when you are idle, or the car is not moving, it only works while you are driving.
Here's what a detailed inspection from us will look like:
We will check for punctures and holes within the hoses and lines
Examine the interior vent air temperature level
We will test the compressor belt
Test the cooling system pressure
Compare the A/C pressure to the manufacturer specifications
Test the A/C system for refrigerant cracks and leaks
Inspect the: radiator coolant level, hoses, pressure cap, and thermostat
Examine the interior and blower